Inglese Architecture + Engineering Firm Profile
Inglese Architecture + Engineering was founded in 1988 by John C. Inglese AIA, PE. The firm's extensive architectural, design, and engineering experience extends to a diverse range of typologies including mixed-use, affordable housing, market rate housing, and municipal projects throughout the New Jersey area. With a solid understanding of New Jersey's local communities and their needs, Inglese is committed to designing buildings and homes that add to what makes each neighborhood distinct.
Complementing our broad portfolio, we take great pride in our role participating in the history and sustainability of the affordable housing process. Repeatedly winning the Governor's award for Excellence in Affordable Housing, we are committed to advancing housing as a vital need in New Jersey's inner city areas as well as promoting high performance and energy efficient design, construction, and commissioning practices.  We bring our core design principles to the affordable housing market, integrating exceptional design into the existing framework of communities, ultimately enhancing the market value and appeal of neighborhoods. With a keen eye for the existing fabric of communities, our work includes modern cutting edge design as well as full historic rehabilitation and adaptive reuse.
As a full-service architectural and engineering firm, our service offerings include civil, mechanical, electrical, and plumbing engineering, allowing our teams to hold close control of the various components of each project. This integrated structure results in seamless project management from design conception through construction completion. The firm also works collaboratively, providing architectural and engineering consulting to other architectural firms, developers, and planners.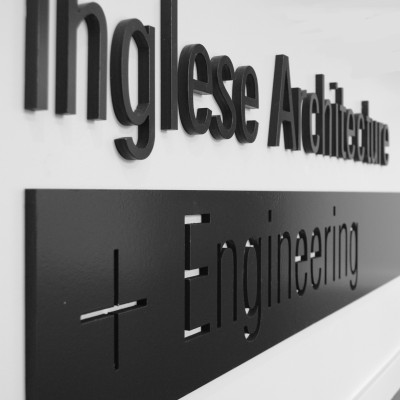 Inglese Architecture + Engineering Team
Jak Inglese, AIA, PE, LEED AP
Founding Partner
Bachelors of Architecture | New Jersey Institute of Technology
Bachelors of Science in Civil Engineering | New Jersey Institute of Technology
Master of Science in Civil Engineering | New Jersey Institute of Technology
Jak Inglese founded Inglese Architecture + Engineering in 1988 and has since grown the firm to 18 employees.
Prior to founding the current firm, Inglese was the president, principal architect and engineer at Tesis Architecture and Design, which originated as Tesis Architects, in the North Jersey area. He has held lead roles at the architectural and engineering firms of JER Company, Inglese-Walker Associates and James N. Lindemon AIA and Associates.
Jak earned a Master of Science in Civil Engineering with a specialization in Structures from the New Jersey Institute of Technology, a Bachelor of Science in Civil Engineering from the New Jersey Institute of Technology, and a Bachelor of Architecture from the New Jersey School of Architecture.
He is Licensed Professional Engineer and Registered Architect with the State of New Jersey as well as LEED Accredited Professional.   He is also a certified HERS rater.   He is a member of the American Institute of Architects,  The American Society of Civil Engineers and the Northeast Sustainable Energy Association.
Since 2008, Jak has been an Associate Faculty Member at the New Jersey School of Architecture, co teaching a design studio on affordable housing.
Joaquin Bouzas, AIA
Partner
Bachelors of Architecture | New Jersey Institute of Technology
Joaquin joined IA+E in 1999 upon graduation from NJIT, earning his architect's license in 2003 and becoming a partner in 2006.  He has worked across a broad range of project types including mixed-use, adaptive reuse, multi family, commercial fit outs and private residences.  Joaquin takes pride in being a generalist architect with a strong interest in building construction.  He excels at bringing projects with tight budgets to fruition while still maintaining the spirit of the project.  He has worked on over 40 multi- family projects throughout the state of New Jersey.
Joaquin has been the project architect on many of the firms most notable projects including, Grand Central Senior, Studebaker Lofts, Voorhees Station, Roseville Commons, Villa Esperanza and The Cooper Townhouses.  Joaquin was also the interior designer on Studebaker Lofts and Voorhees Station.
As the firm has grown substantially over the years, Joaquin has taken on a larger role in the business side of the firm, implementing a business plan so the firm can sustain future growth.
He believes architecture is an incredibly rich creative process and enjoys being an important part of the team that is required in the creation of great architecture that is accessible to anyone.
He holds a Bachelor of Architecture degree from New Jersey Institute of Technology.
Anthony D'Agosta III, AIA, NCARB
Associate Partner
Bachelors of Architecture | New Jersey Institute of Technology
Masters in Infrastructural Planning | New Jersey Institute of Technology
Anthony is one of the longest tenured members of IAE, returning here after gaining experience in the building industry, overseeing the construction of a series of high-rises on New Jersey's famed Gold Coast. He returned to our firm in 2007, a place where he worked as an intern throughout his collegiate career at New Jersey Institute of Technology.
While at NJIT, Anthony was part of the silver medal winning team in the inaugural Masonry Design/Build Competition co-sponsored by the New Jersey Bricklayers and Allied Craftworkers Labor Management Committee. To further his education, Anthony was selected to be part of NJIT's Siena Program, where he traveled throughout Europe and spending additional time there beyond the curriculum. While maintaining his bachelor of architectural studies, Anthony also was a 4 year member of NJIT's baseball team and 2 year captain, earning the honor of being selected to the Central Atlantic Collegiate Conference's Spring All-Academic Team.
Following his undergraduate studies, Anthony continued his education at NJIT and earned a masters degree in the institution's blossoming infrastructural planning. During his graduate studies, Anthony traveled throughout the country and was an important part of NJIT's studio which developed solutions for new and retrofitted housing as well as infrastructure master plans for New Orleans East's Plum Orchard Neighborhood. By the end of the project, the Pratt/NJIT collaboration team developed design prototypes to use at 150 redevelopment sites spread between the Lower Ninth Ward. Professionally, the skills Anthony learned during his MIP studies has given IAE an added advantage in their larger community planning projects.
An integral part to many of IAE's most recent works as lead project architect, he has lead the restoration of the preservation award winning G.G. Green Building in Woodbury, NJ and is now managing the City Center project in Pleasantville, NJ, as well as a series of other multi-family projects, including the Keansburg Multi-Family project in Keansburg, NJ and striving to produce New Jersey's first multi-family passive house at the Westville Residences in Westville, NJ.
Alex Merlucci, AIA
Associate Partner
Bachelors of Architecture | New Jersey Institute of Technology
Alex joined IAE after winning a competitive design studio at NJIT co-taught by Jak Inglese. Since that time, Alex has become an integral part of the team and has participated in all disciplines of architectural, structural and MEP design, project construction, and firm development. Alex has held lead roles in such recent IAE projects as the Kinnelon Firehouse, 50-55 South Essex, and most recently, the Hahne & Co. Department Store redevelopment. In addition, he has served as project designer on The Tony Galento Plaza and 999 Broad Street projects. Alex is a registered architect in the State of New Jersey and is a member of the American Institute of Architects.
Prior to joining Inglese, Alex had worked as a project coordinator for a North Jersey Construction and Engineering firm specializing in marine construction and as a project designer in a local architectural firm. Outside of the office, he is the president of his local volunteer fire department and enjoys hiking, traveling, and designing/fabricating furniture. As an NJIT alumnus, Alex has also returned as a guest critic on multiple studio reviews.
Joseph Chinnery, Jr.
Senior Project Manager
Bachelor of Science in Civil Engineering | New Jersey Institute of Technology
Joe has 18 years of experience in the architectural and engineering design field and has been working at Inglese for the past 6 years. Joe is a Senior Project Manager and Engineer whose responsibility ranges from project managing to all elements of disciplines of engineering. Joe works closely with the design teams to produce multi-family and mixed use residential projects, industrial, and commercial projects.
Before joining IAE, Joe was the office manager and project manager for one of the leading residential design firms in Newark whose duties there included coordinating efforts among developers, architect, planners, engineers, lawyers, realtors, city officials and various trade vendors to develop a project through completion.
Erin Pumo
Senior Project Manager
Bachelors of Architecture | New Jersey Institute of Technology
Erin graduated with a Bachelors of Architecture from New Jersey Institute of Technology in 2011. She came to us in 2013 after spending her first few years in the industry working in the model shop of large national architecture and engineering firm. Her past work experiences and innate sense of design make her a valuable member of the Inglese family. She has a particularly keen eye for visualization, graphics, and she places great importance on precision and attention to detail. Since her arrival, Erin has participated in various capacities on a number of our recent projects including Tony Galento Plaza, Tennessee Green, The Junction at Liberty Harbor, and The Orange Hospital Redevelopment. Erin is eager to learn and is continuously expanding her knowledge to encompass not only conceptualization but also building tectonics and construction practices. Outside of work, you can most likely find Erin in the middle of the woods.  She enjoys time spent outdoors whether it be skiing, hiking, or whitewater kayaking.
Soufiane El Moussi
Engineering Project Manager
Bachelors of Civil Engineering | Portland State University
Soufiane is one of the newer members of IAE, adding to our growing Engineering team. He joined our firm in April 2014 shortly after graduating with a Bachelor in Civil Engineering in Portland, Oregon.  As an Engineering Assistant, Soufiane has worked extensively in structural design (framing design, steel design, foundation), and site plan design. He has also provided support in electrical, plumbing, and architectural design throughout various stages of the project conception. Originally from Casablanca , Morocco, Soufiane's favorite city is San Francisco and outside of work he enjoys soccer, ping pong, traveling, and volleyball.
Christopher M. Westcott
Project Manager
Bachelors of Architecture | New Jersey Institute of Technology
Chris joined the IAE team in 2014 and has excelled in design, detailing, and planning of many of our most recent projects. Chris's notable contributions have been to the Hahne & Co. department Store project and Aberdeen Senior & Family. Chris enjoys hiking, longboarding, and road trips.
Sherry Edwards
Project Manager
Bachelors of Architecture |New Jersey Institute of Technology 2013
Bachelors of Science in Civil Engineering | New Jersey Institute of Technology 2013
Sherry is a valuable addition to IAE's engineering and architectural teams as she brings expertise in both areas. As an assistant project manager, Sherry has worked comprehensively on wood, steel and concrete design for many of our recent projects. In addition, she has worked on the architectural design and historic restoration of project such as the Orange Hospital Redevelopment.
Lizza Medina
Assistant Project Manager
Bachelors of Architecture | New Jersey Institute of Technology
Lizza Medina joined the IAE team in September 2015. Since 2011, she has gained experienced in the building industry in construction and architectural training with prior design firms as well as extensive research during her collegiate career.
Having served as President for the American Institute of Architecture Students in Newark, New Jersey, Lizza continues to enjoy serving as a resource for emerging professionals in the architectural field and mentorship to those who strive to grow in leadership and professionalism. Her commitment to leadership also gave her an opportunity to assist in researching data on Millennials in Architecture and volunteering for Open Architecture, a non-profit organization dedicated to social impact design.
Lizza is also passionate about designing dynamic spaces and buildings that keep up with the changing global market. She strives to design architecture that innovates social impact at different scales with the integration of materials, sustainability, and transformational change in under served communities. Through these measures, Lizza applied her passions with IAE and designed a model Masterplan of the West Side / South Orange neighborhood in Newark, and was also involved in the Pleasantville Corner Building, 116 Madison Street, and Textile Lofts.
Outside of IAE, you will see Lizza enjoying the outdoors hiking, snowboarding, and roaming in her Jeep Wrangler. She also enjoys writing, graphic design, and researching 3D printing for prosthetics.
Ryan Brozek
EIT / Assistant Project Manager
Bachelors of Science in Mechanical Engineering | University of South Carolina
As a valuable member of IAE's engineering group, Ryan's focus is on the design, engineering, and execution of the mechanical, electrical, and plumbing systems for our diverse mix of projects. Prior to joining IAE, Ryan worked for a major utility provider as a mechanical engineer responsible for all air quality control products. Ryan has worked extensively on most of our recent projects including Peninsula Terrace, Barnes and Noble Newark, and The Georgia King Village Upgrades and Preservation project.
Ryan's favorite destination is the Jersey Shore where he grew up. He enjoys all water sports including surfing, swimming, wake boarding, and kayaking.
Tiago Rodrigues
Assistant Project Manager
Bachelors of Architecture |  New Jersey Institute of Technology
Having previously worked at IAE as an intern during college, Tiago joined the team  full time in 2015. Since then he has enriched our architectural team where he is responsible for production on projects in all phases from preliminary design through construction documents. This responsibility spans a multitude of typologies including small scale multi-family projects, bars and restaurants, as well as large scale mixed-use residential work. His devotion to expand his knowledge and his interest in the intricate details of a project reinforces his passion for creating space that occupants find meaningful in their lives.
Tiago enjoys to traveling to experience new cultures and societies as well as soccer, mountain bike riding, and pigeon racing.
Ysmel Guzman
Assistant Project Manager
Bachelors of Architecture | New Jersey Institute of Technology
Ysmel joined IAE in Early 2016 as an Assistant Project Manager and has experience in the architectural field since 2013.  He has worked assisting the architectural and engineering teams on many recent projects including Peninsula Terrace, Carlstadt Senior, and Van Winkle homes.  Most recently he has been working on the design development and construction documents for a complex multi-family senior project in Newark's Ironbound community.
Ysmel's personal interests including playing and writing music, traveling to areas of unique culture, and playing/watching baseball and volleyball.
Laura Bedoya
Assistant Project Manager
Bachelors of Architecture | Universidad Pontificia Bolivariana Columbia
Prior to joining the IAE team, Laura as a project assistant for the governorship of Antioquia in Columbia where she was in charge of the maintenance contracts that were  developed inside the organization. In 2013she moved to Syracuse, NY where she worked at Francisco Sanin architects for 3 years as a project assistant developing competition projects, master plans, exhibitions, as well as residential, commercial, and educational buildings in various countries including Mexico, Hong Kong, Colombia, and Unites States. Outside of the office, Laura enjoys sports of all kinds, art, and fashion.
Gabriel A. Cañizo
Assistant Project Manager
Bachelors of Architecture | New Jersey Institute of Technology
Masters of Infrastructure Planning| New Jersey Institute of Technology
Gabriel has always been fascinated by the world we live in and for that reason, chose to study and pursue architecture as a way to help better connect people to their built and physical environments.
As a graduate student for the Master of Infrastructure Planning Program, Gabriel was part of an urban planning studio which ultimately traveled to Shenzhen, China to present their project. A project that dealt with people's mobility in the urban environment, physically and socially. Being able to share his ideas internationally was a highlight of Gabriel's studies and reaffirmed his commitment to architectural typologies he has chosen to pursue.
While with IAE Gabriel has applied these skills and experiences while working on The Georgia King Village Upgrades and Preservation project, 540 Broad Street, ULEC Newark Model Homes, 14 Summit Street, and a multitude of other projects. Garfield Ave redevelopment building project. Currently, Gabriel is an Associate member of the AIA and am enrolled in NCARB's APX program. Some of Gabriel's favorite hobbies are map collecting/making, vexillology (the study of flags), traveling to see and experience other cultures, and spending time outside with his four dogs.
Catalina Ana Barbero Ozaita
Assistant Project Manager
Bachelors of Architecture | Madrid School of Architecture   (ETSAM, Universidad Politécnica de Madrid)
Masters of Architecture| Madrid School of Architecture  (ETSAM, Universidad Politécnica de Madrid)
Catalina joined the IAE team after beginning her career as an architect in Spain. During her her undergraduate years, she worked as an Intern for Arq&Reformas Madrid where she focued mainly on adaptive reuse and rehabilitation projects including project programming, drafting , rendering, and completing the requisite Proyecto Básico (a technical document that is required by the city councils  in order to approve the execution of a project). After completing my Masters Degree in Madrid, Catalina joined IAE as an Assistant Project Manager.
In addition to studying architecture, Catalina also has a substantial education in music  which began at the age of 5.  She holds a a professional degree in Music from the Arturo Soria Professional Music Conservatory with specialization in Flute and Piano. She has performed with several Chamber and Orchestral Ensambles such as the Pehlivanian Project Orchestra at the National Auditorium in Madrid (Spain), the Palais of Beaux Arts in Brussels (Belgium) and the Palais des Sports du Touquet Paris-Plage in Le Touquet ( France).  Additionally, Catalina enjoys watercolor painting and is a member of the Painters Association in her home town of Tres Cantos, where she has presented her work several exhibits. She loves visiting Museums, travelling, taking walks, going to concerts, and discovering new recipes.
Hunter
Senior Feline Security
Hunter is one of IAE's most important team members. As the lead security agent for the office, Hunter has embraced his role after being adopted following a trying time living beneath a construction trailer. Since coming to the office–and getting a series of requisite baths–Hunter has thankfully put on a healthy weight and his loving affection is a great benefit to the studio and is quite a treat for visitors.